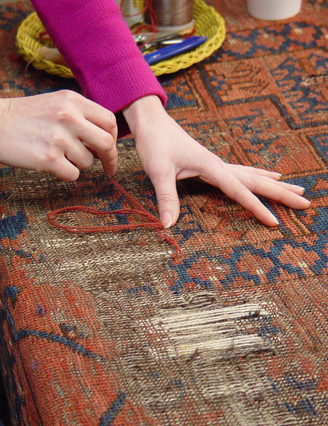 We believe that every rug is special, has a story and deserves to be preserved. This is reason why our family (and established imported of fine rugs) started Artisan Rug Care. It gives us the opportunity to provide expert service to some of the finest Persian and Oriental rugs in the world. Artisan Rug Care is a family company that can't wait to earn your business. We aim to provide the best personalized service for your rugs so that they last for years and years to come.
You will most likely know us by looking our results
Traditional Hand-Wash Methods
Ready for us to service your rugs?
Here at Artisan Rug Care, we clean rugs using the traditional Persian hand washing process.  All of our detergents are organic and child/pet friendly.  You may request a enzyme wash at any time to remove pet odors and stains.We hand wash and repair all types of rugs from wool, wool/silk, cotton, and other other natural fibers.
If your rug is in need of restoration services, we have master weavers in-house ready for your needs.  No job is too large for our professionals here are at Artisan Rug Care, where we provide the best rug care services in Dallas!
Call us today at (469) 387-6777 or stop by our rug service facility in the Dallas Design District at 1131 Slocum St. Dallas, TX 75207 today!